Dear Friends:
We have some amazing news!! We've won our 5th award since January 2016. Congratulations to each and every one of YOU. We received this message from the IndieFEST Competition Director, " Congratulations! On behalf of our entire staff and panel of judges, I am pleased to inform you that you have won an IndieFEST Global Film Award! Award of Merit: Documentary Feature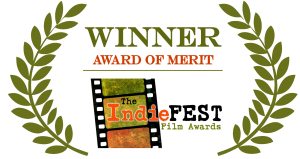 Winning an IndieFEST is something you and your entire team can be proud of! Our judges base their decisions on the quality, creativity and technical aspects of each piece. The award appropriately reflects the endless hours you and your team have spent to create your outstanding production! Congratulations on your achievement!"
We are also thrilled to inform you that we have raised just over $75,000 ...
only $15,000 more to go to deliver on our first phase.
Thanks so much to each and every one of you who have contributed time and again AND OUR HEARTFELT AND MOST SINCERE GRATITUDE TO ONE IMMENSELY GENEROUS SUPPORTER, who launched a dollar to dollar match for up to $7,000, making her our fifth Honorary Associate Producer. This was organized by our own Monica Kelley with the help of Poppy Farm, who has been a huge supporter of our campaign from day one.
This $$-to-$$ match is still underway.
And what this means is if you contributed $5, it will become $10, and if you contributed $100 it will become $200. We can easily reach our goal of $15,000 in a matter of a couple of weeks if we worked collectively.
Please click here to continue to donate and share our EPIC AWARD-WINNING DOCUMENTARY PLEASE HELP US UNSHACKLE THESE TORMENTED SOULS FROM THEIR CHAINS OF PAIN: https://www.indiegogo.com/projects/gods-in-shac...
We are working in the background on "other things" that I will email you when the timing is right, as that information isn't intended for public display.
Much Gratitude from all of us in the Gods in Shackles Team!! Congratulations to all of YOU!! At the end of the day the elephants are the winners, as the message is now spreading globally, and seeping into India as well.
Warmly,
Gods in Shackles Team
Reply directly to this email to respond to the campaign owner,
Sangita Iyer
. Visit the
campaign page
to view all comments and updates for this project.
Help spread the word about the campaign!